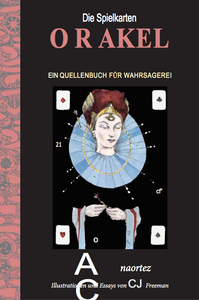 Ana Cortez
eBook in German: "The Playing Card Oracles, A Source Book for Divination," by Ana Cortez, with unofficial translation by Daniela Bacek
Regular price
$ 0.00
$ 0.00
This is the classic "The Playing Card Oracles," in PDF eBook format, translated into the German language. A rare book unlike any other in it's field - the manual that is changing the way the world sees and reads cards. 
This translation is a labor of love by Playing Card Oracles student, Daniela Bacek. Although the 100% exactitude of this translation has not been officially verified by Ana, she and Daniela are making this available, free of charge, so that this one-of-a-kind method may be accessed by greater audiences. 
"(The) Playing Card Oracles should be on the required reading list for card readers of all levels. 
… I simply couldn't put the book down."
✮ ✮ ✮ ✮ ✮ — John Alan, The Tarot Guild
For use with the Playing Card Oracles Divination Deck, or any other regular deck of playing cards.
Exclusive information not found anywhere else that brings the playing cards to life: how to use the 52-card deck as a lunar calendar, practical application for numerology and the four elements, history of the playing cards, their use with geomancy, and much more. User friendly and eloquently written, The Playing Card Oracles is capturing the attention of card readers and former non-card readers world wide.

Illustrations by C.J. Freeman. PDF format.
For English PDF version, click HERE.