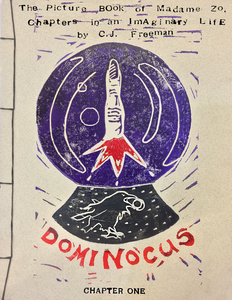 Ana Cortez Store
Ebook - The Picture Book of Madame Zo, Chapter 1: "Dominocus"
Regular price
$ 1.99
$ 0.00
This is the 1st Chapter in the Madame Zo series. Each chapter is a mini story, complete in itself but part of a larger, esoteric novel. Channeled by CJ Freeman*, the story is told in the first person by Madame Zo, a black woman in the early 1900's.
The name of this chapter is "Dominocus."  16 pages including front matter, PDF format.
Cover image by C.J.'s daughter, Ana Cortez.
(Kindle version available at Amazon.)

Excerpt from Chapter 1: "My name is Zowanda Rose. My story begins here, when Dominocus come up to me, shove a crumpled up piece of wax paper into my hand, go waddling off like a big fat crow. I must have been eight, maybe nine years old at the time. Dominocus give me three gifts right before she die encapsulate certain mysteries... Everyone of us receive a number of riddles during childhood. Important riddles demand attention later. Now my riddles probably quite different from yours, and yet I suspect the lie may very well be the same."

*CJ Freeman is best known for his work as Co-Creator and Illustrator of "The Playing Card Oracles."